Megan Andreano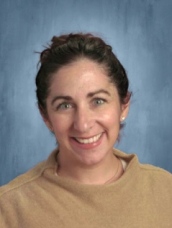 Megan Andreano
VP-Resource Mgr
Megan Andreano returns to Our Lady of Mount Carmel School as the 5th Grade Homeroom Co-Teacher, as well as our Resource Specialist for fourth through eighth grades.
Megan originally joined OLMC years ago to fulfill her student teaching experience as Mrs. Camille Torres's 3rd Grade Instructional Aide. Prior to returning to the OLMC faculty, Megan was the 4th Grade Homeroom teacher at nearby St. Pius School for 14 years.
Megan received her liberal studies degree from the University of the Pacific, her teaching credential from Notre Dame de Namur, and her Masters in Inclusive Education from USD.
Megan has always had lifelong aspirations to become a teacher; following in her mother's footsteps. Over her fourteen years of teaching, Megan has been very involved in the school by leading various school committees, piloting new programs through the Archdiocese, participated on numerous WASC experiences, and sat on a panel to help determine the NAEP Writing Achievement Level Setting, to name a few. She loves working with children and is excited to work in this new position.
Megan grew up on the Peninsula, having attended a Catholic elementary and high school. In her spare time, she enjoys spending time with her family and friends, trying new restaurants, and traveling to new cities around the world. Megan is excited to join the Mount Carmel community and is looking forward to meeting the students and families!